An Expert Comparison of Roulette vs Craps
At a Glance:
With many different roulette variations you can try the popular American or something else.
Roulette is a fun online game that's highly popular because of its simplicity.
Free tables are good for learning the game.
Figure out the rules and then bet with real money.
Live roulette is a different game than online and you should learn both.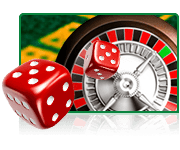 Table games like craps and roulette can be quite intimidating to Canadian players who've never tried them before. Thanks to online casinos, it's easier than it's ever been to give these games a try. But you might well be wondering which, if either, game is the one for you.
Despite the fact that the games seem to have very little in common, except for a green felt table, the games have a few similarities. Of course, they also have plenty of aspects that are very different as well.
Similarities Between Roulette And Craps
Many casinos games are 'black and white'. For example, with blackjack you bet a certain denomination of chip, play the hand and either win, lose or push. Both roulette and craps allow you to place many different wagers, using different sums of real cash on several different outcomes.
Roulette and craps, provided you're playing the right bets, also have a fairly low house edge in common. When you compare the games with something like slots or keno, you'll see that you have a much better chance of retaining most of your bankroll or even walking away from the table with some profit.
Differences Between Roulette And Craps
With the exception of the La Partage and En Prison rules in French roulette, all bets placed in roulette are resolved after a single spin. This is true of many other casino games as well, but doesn't apply to craps. It's not uncommon for bets to stay on the table for several rolls of the dice so, in that respect, you get more excitement for your money playing craps.
When playing craps in a land-based casino, one of the players acts as the shooter. This means that you won't always be in charge of shooting the dice. In roulette, the spinning of the wheel is always done by a croupier and not by a player. However, when you're playing online this difference becomes a similarity; you control both the shooting of the dice and the spinning of the wheel yourself.
Advantages of Roulette Over Craps
Although you only need to know a couple of the basic bets to get started with craps, we'd still argue that it's more complicated than roulette. It's not as complicated as it appears but, even so, roulette is a little easier to understand for the first time player.
It comes down to personal taste, but if you're only making pass/come or don't pass/don't come bets in craps, the game can get a little dry. Meanwhile, roulette allows you to dabble in inside betting while also placing even money bets to slowly but surely build your bankroll. This keeps things exciting and stops you getting bored.
"Roulette is a game of complexity that appears simple on first glance, you can learn to play it in one sitting, but you can't master it in 100."
Disadvantages of Roulette Compared With Craps
We already mentioned above that bets sometimes stay on the table for a while when you're playing craps, so you get more excitement per Canadian Dollar spent than playing roulette. Of course, some players prefer the more rigid approach of betting, winning/losing, repeat to the more free-flowing nature of craps.
The major bets in craps–pass and don't pass–have a house edge of between 1 and 2%. When you compare this with roulette, the American variation in particular, you'll find that roulette's house edge is higher than this. In the long run, this means that craps may technically be a better bet than even money bets on the roulette table.
Craps and roulette each have their own set of advantages and disadvantages, but they're both fine choices for an exciting, social activity in an offline casino and a potential moneymaker if you make the right bets in an online casino.