Your Online Gambling Guide to Roulette vs. Keno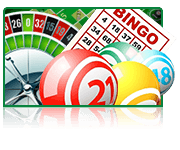 Roulette and Keno are both popular games at the casino, but for very different reasons. Both rely on the random chance of number selection. However, roulette is a table game that allows players to strategize using probability, bet combinations and potential payouts, whereas, Keno is more of a lottery game. Which is better in terms of house edge, potential winnings and variety of gameplay? Have a look at our in-depth comparison to find out.
The Basics of Keno
This is a lottery style game where players purchase tickets with the numbers they hope will be drawn each round. There are 80 possible numbers, but only 20 will be picked. Players may choose from 10 - 20 numbers or combinations of numbers. Much of this depends on which casino you are playing at or what variation you are playing. Payouts are based on how many of your numbers hit. The more numbers that match up, the higher the cash prize!
Often, online versions offer extra features and higher payouts than live versions. An automated game may include special bonuses that increase your winnings. As most keno games have low starting bets of C$1, doubling the wager for a bonus of up to 10x your winnings is hard to resist.
Some casinos even have enticing progressive jackpot keno allowing players to win much more. As with a lottery ticket, hundreds of thousands of Canadian dollars can be won.
An Odds Comparison
Keno requires much more luck, as it has much worse odds than roulette. Of course, all casino games are games of chance, but roulette has a house edge ranging from 1.35% to 5.26%. Keno has a house edge of up to 50% depending on the amount of number selections you make and potential combos you choose. Clearly, players have a better chance of minimizing losses or even making a profit when playing roulette.
Explore the Keno and Roulette Variations
Online roulette has several variations including American, European, French, Spingo, multi-wheel, multi-ball, live and even no-zero roulette. This gives players a multitude of choices with varying house edges, bet options and potential payouts.
Keno has 3 main variations including progressive jackpot, multi-card and single card. Then, there are ticket variations such as straight, way combination and king tickets. Straight tickets are played on one card and offer the most basic rules. The rest offer options for betting on number combinations for higher wagers and payouts.
What Are My Potential Winnings?
Depending on where you play, Keno bets can be made, lost or won in seconds or minutes. Usually, live versions played in keno lounges at casinos take 3 to 5 minutes per round, whereas, live roulette only takes 1 to 2 minutes per spin.
Online keno goes at a much faster pace allowing you to select your bets and press a button for instant results. Even when playing with the same bet each round online, roulette takes at least 30 seconds to a minute per spin. Unless, of course it has a fast mode which eliminates all animations. Then, each spin only takes seconds making both keno and roulette very similar in game speed with the potential to win or lose a lot in a small amount of time.
Something else to consider is that while keno wagers are less likely to win, the potential payouts per bet can be significantly more than roulette's 35/1. Of course, payouts vary a bit depending on where you play, but for the sake of demonstrating a point, here's an example of how this generally works.
Number of Picks per C$1 bet
Number of Hits
Payouts
2

2

1

9/1

1/1

3

3

2

1

47/1

2/1

0

4

4

3

2

1

91/1

5/1

2/1

0

5

5

4

3

2

1

820/1

12/1

3/1

0

0
As you can see, you must get more hits to reach a higher level of payouts in keno, however, the likelihood of that happening drops significantly. When played online, it can be more of a high risk, high reward game despite only requiring a dollar wager at a time, because it is possible to bet a dollar every few seconds. Roulette relies on fixed odds that make it more of a low risk, low reward game by comparison when using a low risk betting strategy. So, while the payouts are potentially much less than keno, you actually have better odds to walk away with a profit after a roulette session.
Below illustrates the differences in potential payouts between the two games. Note that the highest payout per bet is based on a progressive jackpot keno offering a max prize of C$250,000. No matter where you play, keno offers a higher payout potential than roulette.
| | | |
| --- | --- | --- |
| | Roulette | Blackjack |
| Lowest payout per bet | 1/1 | 1/1 |
| Highest payout per bet | 35/1 | 250,000/1 |
| House edge | 1.35%, 2.70% or 5.26% | up to 50% |
Pick Your Winner
Many players would argue that winning often isn't necessarily the point of keno. The game is mostly enjoyed by players who are taking a break from table games and having a drink or those who want to try their luck at a high risk game but aren't in the mood for slots.
Roulette is a fairly involved game that requires players to place and withdraw bets, pay close attention to the wheel and think about how they will bet. In those ways, it doesn't necessarily serve the same purpose as keno. In fact, you're not even allowed to put drinks on the roulette table!
Despite the fact they both involve picking numbers to win real money prizes, comparing keno with roulette is like comparing apples and oranges. When making your choice on which to play, keep in mind that roulette has a much lower house edge than keno while still offering decent payouts. Although roulette may appear more complex than keno, it has several basic even-money bets that make it easy to jump into even for first-time players.
Take Both for a Test Run
Of course, you don't have to just choose one. You could certainly switch back and forth when you need a break from strategizing at the roulette table. There are free play options online if you want to try keno and roulette out to see which one suits you best! We always recommend trying a casino game before you buy!