Roulette vs. Slots
At a Glance:
Roulette online is very popular because it's simple and because it's fun.
The most popular variation among many is American Roulette.
The rules of the game should be learned well before real money games are attempted.
Free tables are plentiful, try one out to get a feel.
Live and online roulette are different ,learn the differences.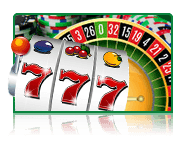 On the face of it, roulette and slots might seem to have very little in common. One involves, in land-based casinos anyway, placing seemingly complex bets on a spinning wheel while the other involves betting on three or more spinning reels. However, online casinos have created more similarities with the game and you can even find roulette/slot machine hybrids in some casinos.
The similarities between slots and roulette become more apparent if you think of the roulette wheel as one big slot machine reel. Only instead of hoping for a series of images to line up across a payline, you're effectively in control of creating your own paylines with the bets you place.
Similarities Between Roulette And Slots
When betting on red/black or odd/even, or even placing a straight up bet on a single number, the games don't seem all that alike. However, if you place a number of different bets–such as the 3:2 system for example–you can cover up to 70% of the board. Like at a slot machine, it's then a matter of praying for some luck and relying on the odds.
Roulette and slots are also similar in that there are a couple of different styles of play. Placing large sums of money on inside bets, such as a single number, is like wagering a significant proportion of your bankroll on a single pull at a slot machine with a high payout. Wagering small sums of real cash on outside bets like red/black or odd/even has more in common with playing steadily for some time at a slot machine with the hopes of grinding your way towards a large jackpot.
Differences Between Roulette And Slots
Clearly, despite the similarities we've talked about above, the games are still quite different. Slots, online or land-based, are largely a solitary activity. Meanwhile, if you're playing live roulette, you can expect to be interacting with a dealer as well as several other players.
You can also choose from a huge range of different machines when it comes to slots, while roulette has just three core variations (European, American and French).
"Canuck Roulette can be picked up fast, but it's complex, there are many betting options and mastery is something that takes time, and persistent practice to come by."
Advantages Of Roulette Over Slots
The big advantage roulette has over many casino games, slots included, is that it has a relatively low house edge. That house edge increases when you're making inside bets, but outside bets have odds of close to 50/50. You could search far and wide and still probably never find slots with odds of 50/50 on every spin.
Disadvantages Of Roulette Compared With Slots
While roulette isn't exactly harder than slots, it does have more of a learning curve in that it requires knowledge of many different bets as well as certain table etiquette if you're playing in an offline casino.
In addition, the jackpots associated with roulette–except perhaps for wagers placed on individual numbers–don't come close to matching those of slots, particularly some of the huge progressive jackpots you'll find online.
Betting fans enjoy slots because they're easy to play, require very little effort and have the allure of very large jackpots always on the horizon. Roulette is a little different in that most players stick with outside bets, which have comparatively modest rewards. It is possible to place lots of inside bets in the hope of reaping a large real cash prize, but you won't get the intermittent wins that most slot machines reward players with.
Fortunately, there's no need to choose between the two and the games actually complement each other quite well. After an intense session of roulette, spinning a few reels at the slots can be a nice way to unwind, spend some extra chips and, if you're really lucky, win yourself a great prize.