Free Multi Wheel Roulette Game & Casinos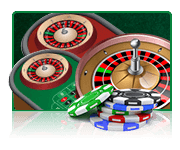 Ever hear the saying that two heads are better than one? There's also a similar saying in the gambling world that eight Roulette wheels are better than one! Welcome to one of the wildest and most exciting real money games found at online casinos, Multi Wheel Roulette.
The game has one standard roulette table, but a whopping eight roulette wheels. All the bets that players normally find in roulette are also found in this version of the game. Read on to learn more about the rules, and the game's advantages and disadvantages, plus some important differences between this version and the standard real money online roulette.
Try A Game of Multi Wheel Roulette Now For Free!
Rules of Multi Wheel Roulette
The object of the game is to predict where the ball on the wheels will land. Players click on a chip at the table and place it on one of the many places they can make a bet. Each limit for Multi Wheel Roulette applies per wheel bet. By default, all eight (sometimes six) wheels are engaged, but players can choose to play a minimum of one up to the maximum allowable wheels simultaneously.
Players are shown the number of active wheels, the wheel bet (this represents the bet amount per active wheel, not the total), the total bet (calculated by the number of active wheels multiplied by your wheel bets), and your win amount from the current round.
Players click the spin button after making their cash bets and watch the animation. After it's done, each wheel will show the winning number and the board will show the winning amounts after every turn. Winning bets remain on the table, but players can remove them if they wish. Clicking "re-bet" will repeat the same bet from the last round while clicking "re-bet and spin" will repeat the bet and automatically start the wheels spinning again.
At a Glance:
Multi Wheel Roulette is a lot like ordinary roulette, only with extra wheels.
The advantage of Multi Wheel Roulette is that it offers a lot more action.
The odds are the same since each wheel is played independently.
There are a few differences that are important to know about.
Advantages of Multi Wheel Roulette
Players should think of Multi Wheel Roulette similar to how they think about multi-hand blackjack. It's the same game, only you're playing more than "one at a time" in a sense. Instead of your bet playing on one wheel, you're placing a bet at six or eight different wheels. This means your chances of hitting it big are a lot higher and that you can get in more spins quicker. The real advantage here is that the action junkie can find a lot more excitement faster than with standard Roulette, which might be a little slow by some players' standards.
"Multi wheel roulette allows players in a time pinch to play several bets at once, upping the speed of the game but also the ante. Novice roulette players should first learn on single wheel tables."
Disadvantages of This Game
One of the main disadvantages of real money Multi Wheel Roulette is that there are a lot of bets going on compared to a game of American roulette and players can quickly burn through their bankrolls if they are not careful. Remember, the bet placed is per wheel so if you place $5 on lucky number 19 and you play eight wheels, you're betting $5 at each wheel for a total of ($5 x 8) $40 on the table.
Odds of the Game
Believe it or not, the odds of Multi Wheel Roulette are exactly the same as they are with any other version of online Roulette with the same amount of zero numbers on the table. Most Multi Wheel Roulette games are played in the French variety, meaning there is only one zero at the table, so the house edge on almost all bets is a small 2.7%, representing one of the smallest edges at any online casino.
How This Game Differs From Regular Roulette
Real money Multi Wheel Roulette really has only one small difference between it and other versions of the game and that's the number of wheels you can play at the same time. This means that bet sizing will need to be adjusted if you're not comfortable multiplying your bet across multiple wheels.
For example, if you're used to playing $10 per number and no more than $50 per spin, you might want to adjust it such that you're playing five wheels at the same time and $2 per number and no more than $10 on the table since that would be the same financial investment per spin. Outside of that, there are some cosmetic differences players should note but otherwise, the game is exactly the same.
Multi Wheel Roulette FAQ




How Does Multi Wheel Roulette Work?

Multi Wheel Roulette allows players to play several wheels at once, multiplying their chances of winning on each bet placed. Multi Wheel is available at many online casinos in Canada and is the perfect solution for those short on time who wish to play many spins of roulette on a regular basis.

Is It Popular?

Yes, Multi Wheel Roulette is wildly popular among the more serious and active online casino gamblers in Canada. While we don't recommend Multi Wheel Roulette for novice players, it's a great fit for upping the ante and winning big quickly. There's no longer the need to place one large risky bet to win large at roulette.

Where Can I Find It?

Multi Wheel Roulette is offered at the mainstream online casinos we've endorsed for fair play, security, and cutting-edge graphics. When you play from one of our recommended Multi Wheel Roulette sites, you'll only be playing at the best.

How Is It Different from Other Variations?

Multi Wheel is different in one obvious way, and that of course is the fact that your single bet is multiplied up to nine times as nine wheels are in play for each spin. More wheels mean more ways to win, but also a higher per spin total. A single $5 red bet is actually $45 if nine wheels are being used. Players at a Canadian online casino have the option to choose between one and nine wheels.

Are the Odds More favorable?

They aren't more favorable, nor are they less favorable. Introducing multiple wheels only multiplies the speed of the game and the total amount being wagered, but it doesn't alter roulette's overall odds.

Should I Use a Different Betting Strategy?

Stick to what you do best and use the same betting strategy you would on a single wheel playing European or American roulette.

Can I Use a Roulette System?

Plenty of gamblers employ roulette systems, believing they provide them with an advantage over the more casual and amateur roulette player. But Canadians, listen up: systems are wildly unproven methods that have no bearing on your chances of winning.