Top 10 Roulette Tips for Winning at Online Roulette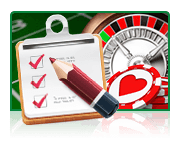 If you're keen to play roulette online, it's easy to become overwhelmed by all the information out there for Canuck gamblers. Luckily, we like things simple here at OnlineRoulette.ca, so here's a look at 10 important tips for playing roulette on the web.
1. Stick to European Roulette If You Can
There is nothing you can do that will more drastically improve your odds than simply choosing online websites that offer European Roulette tables. These wheels have only one zero space (single-zero wheels), thus giving them a total of 37 pockets.
With only one zero pocket, these European wheels carry roughly one half of the house edge (2.63 percent) found at American Roulette tables (5.26 percent). Essentially, what that means for you is more winnings in your pocket and less in the casino's coffers.
To read more about the different variations, check out our article about American and European Roulette.
2. Keep to the Outside Bets
While dumping a bunch of chips on your favourite and crossing your fingers might be a thrill, you won't be profitable for very long just playing the big-odds bets in the center of the table.
That is why sensible betting is key to long-term profits in online roulette. The outside bets like Odd/Even and Red/Black pay even-money and should be preferred to the riskier inside bets that pay out 35/1.
3. Hunt Out the "La Partage" and "En Prison" Tables
OK, so you know all about how good European Roulette is. But after finding European Roulette wheels, the next thing you can do to boost your odds is find a European table that offers La Partage and En Prison rules.
"La Partage" works like this: if the ball lands in the zero, anyone who's placed an even-money bet are given half their bet back. Not only that, but the house is reduced to 1.35 percent or thereabouts.
"En Prison", meanwhile, offers a similar house advantage of 1.35 percent. Here, your lost bet is put 'in prison' after a zero lands. If you hit your winning bet on the next spin you will have your bet returned to you with no more winnings. If you miss the number you lose the bet. If the ball hits your bet on the next spin, your bet is returned to you with no what winnings. If it does not hit your number, you lose the bet.
While the details may vary slightly from casino to casino, these unique rules protect your even-money wagers in the event that a zero comes up. Think of them as insurance in case the results go against you.
4. Use Free Roulette Systems
There are plenty of people that happily sell "top secret" roulette systems online and in bookstores, but the only real secret is that they are ripping you off!
So, put down your credit card, and start learning some of the free roulette systems available online. No matter what they may promise you, no system offers players a fool-proof secret strategy that always wins; systems are all about altering your bets sensibly and improving your overall game experience. Why not try out one of our free roulette systems which are 100 percent free!
5. Enjoy Your Hot Streaks While They Last
You might not think that Chaos Theory has anything to do with everyone's favourite casino game, but that's exactly what some scientists are arguing.
Chaos Theory has shed some light on why some numbers/colors appear more often than others in the short run so it turns out that some of those early roulette systems like the Andrucci System might be on to something!
The bottom line, as any experienced gambler will tell you, is that streaks do exist! If you are riding high and winning big, stick with whatever you're doing until your luck changes, and then take a break. It's hard to put any real guidelines out there, but trust your gut!
"No tip for Canadian online roulette is more vital than sticking to European wheels over American variations. Play for free, learn the game, and gain a sense of comfortability with Internet roulette before testing your luck with real money."
6. Manage Your Bankroll
Before you even walk into a casino, or log on to an Internet gaming site, you should decide how much you are willing to lose - and actually stick to it - and once you set the number, protect your bankroll while playing.
The easiest way to do this is to pocket any winnings as they arrive. This means if you look down and realize that your starting roll of $25 is now $50, simply take $25 off the table. Now, you are playing with pure winnings and your starting bankroll is safe.
It goes without saying too that you should avoid tables at stakes you're ill-equipped to play at. If you only have $100 to play with, hit the tables with low minimum bets on the outer bets so your money will go further.
7. Try Out Great Online Variations
The beauty of online roulette is that you are not restricted to boring old European or American Roulette. In 2017, you can play Multi-Ball Roulette - with three balls on the same wheel - or Multi-Table Roulette, which lets you bet on up to eight tables simultaneously.
Just as online poker gives you the opportunity to increase your volume - therefore, giving you the chance to win more over time - so online roulette variations offer more excitement and more action. Play more roulette and trigger that deposit bonus even faster!
8. Brush Up on the Rules Before You Play
As with so many gambling games, online roulette demands that you know what you're doing before you start playing.
Start off by learning the layout of the standard roulette table and what bets pay out what. Blindly clicking away at chips and spots on the table is a sure-fire way to lose your entire roll in no time.
Remember, there's a chatbox where you can ask questions, and in the case of Live Dealer Roulette, you can even chat to a real-life croupier! To help you on your way to a happy roulette life online, take a look at OnlineRoulette.ca's dictionary of popular roulette terms.
9. Practice for Free
In 2017, you don't have to pack your bags to squeeze in some quality roulette table time at a casino miles away from where you live - just get to a computer with good Internet access and you can play roulette at online casinos for free!
Most online casinos for Canadians will offer free-money versions of their games so you can get a feel for the roulette variations before committing any real C$. And this can be particularly useful if you're playing one of the many exciting variants of the game now available online in 2017.
10. Only Play at Reliable Online Casinos
If you thought all online casinos were created equal, think again. While there are solid, reputable sites doing great things for Canuck gamblers online in 2017, there are still gaming websites that are illegal at best and fraudulent at worst. Choose badly and your personal data - or worse, your money - could be at risk.
Take the risk out of proceedings by checking out our recommended online casinos for roulette players in Canada.
Want More?
We've got a wealth of free info on this site so check out some of our other roulette articles for more tips.