A Guide to the Best Roulette Strategy
At a Glance:
Understand the rules and what bets offer the best odds.
European Roulette has a smaller house edge than American Roulette.
Good casino players always understand the roulette house edge and odds.
There are many roulette betting systems out there - but not one is proven.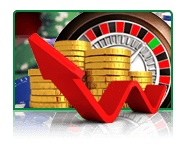 There's nothing like placing your bets on the roulette table and hitting your number on the nose for a whopping 35/1 payout. Just imagine - a mere $20 bet on one number can result in a great $700 win!
Playing the best online roulette games at the top Internet casinos is one of the most thrilling activities that Canadian gamblers can enjoy.
And whether you're betting on 35/1 shots or playing it safe on the even-money red or black bets, you can put strategy to good use in the hunt for bigger wins.
On this page, we'll examine some of the various betting systems for roulette, look at different bets and their odds, show the differences between roulette variants you'll find online in 2017, and spell out the house edge you'll be up against in your roulette games.
Free Roulette 'Cheat Sheet' Chart
Want to make the task of learning Roulette a lot easier? Check out our 100% free roulette chart, which explains the bets, the payouts and odds - print it out to help you play better and win more.
We also have a PDF version of the cheat sheet - Download PDF.
The "Best" Betting Systems for Roulette
Every spin in roulette is a random action, independent from all past events. While you might be able to trick yourself into thinking that you have a clairvoyant knowledge of where the little white ball might land next, the truth is it really is down to chance.
There are many betting systems for roulette, and just as many theories disproving them. The famous 'Martingale System', for example, has as its main strategy the need to double bets immediately after a loss, so that once you win you immediately cover any losses you might have incurred before.
So, employing the Martingale, if you bet $10 and lost, the next bet would be for $20, and so on. You keep on doubling until you hit, then revert to your $10 basic bet.
Sounds great, right? Well, yes, until you realize that you can quickly go busto playing this way, and anyway, computer statistical analysis of this system proves it doesn't provide any real edge.
Other systems, meanwhile, like the 'Andrucci', take into account trends and spikes in landed numbers on the wheel, and instruct you to alter your bets accordingly. Again, short-term 'spikes' do occur, but then over the long-term, numbers that land on the roulette wheel tend to even themselves out.
While it's sometimes joked that the best roulette system is simply not to play, many players like to play around with a system or two to see if it can work for them. Visit our page on systems here to try one out today.
Understanding Roulette Rules and Odds
Knowing the Most Favorable Variants
The first thing smart roulette players in Canada should look for are online casinos offering European Roulette games.
Why? Because European Roulette tables feature only one zero as opposed to two in American Roulette games. Despite the American version providing a lot more action with that double zero, they also double the house edge, thus making them far less favorable to gamblers. (European Roulette has a house edge of around 2.6 percent as opposed to 5.25 percent for the American variant.)
Playing the Outside Bets
While your biggest scores will invariably be the ones with the longest odds (betting a single number pays a tasty 35/1), good Canadian roulette players with an eye on the long game will stick to European tables and wager on the outside bets.
That means either betting on columns of numbers that pay 2/1, or betting on red/black, even/odd or the sections 1-18/19-36 since you have a near 50-50 chance of hitting a winner. Winning on these particular outside bets will pay even-money but you can bump up your bankroll with a lucrative deposit bonus at a good online casino (making sure roulette games are eligible in triggering a bonus first).
Playing the Inside Bets
If you're going to play inside bets to chase a big pot, remember that you don't have to bet on just one number per roll. You can place bets on multiple numbers simultaneously, or even make split bets where one chip is placed between two numbers and if you hit, you get 17-1 on your money. While it'll not be as favorable as playing outside bets, hitting the insides can result in some juicy, irregular wins.
"While strategy theoretically has no influence on your overall roulette odds, understanding betting systems and betting options can assist in your approach."
Differences Between the Roulette Variants
In land-based casinos you'll normally have a choice between American Roulette or European Roulette (or even, in some locations, French Roulette).
French Roulette plays much like the European version, sporting as it does a single zero. However, if the ball stops on that zero, half the amount placed on the outer bets will be returned to players. This means that the house edge is only 1.35 percent, making French Roulette perhaps the best version of the game you can play.
However, the nature of online gaming allows for many different roulette variants. If it's multiple balls or tables you want, you're bound to find a casino online that hosts it.
Multi-Ball Roulette gives you three times the chance to win, as three balls spin on a single wheel, while Multi-Ball Roulette sees your bets spread across up to eight tables. Premier Diamond Roulette, meanwhile, , features red/black bets as in the conventional game, but an extra two colors are included to offer players online in Canada even more betting opportunities. Finally, Spingo - offered at some of the larger Canadian online casino websites - is a crazy mash-up of Lotto and Roulette.
What are the House Edges?
House edges vary between the American, European and French versions of roulette due to the addition of the extra numbers. For American Roulette, the house edge is 5.26 percent, and in European Roulette, it's reduced to just 2.7%. French Roulette, meanwhile, offers the best advantage to player at 1.35 percent - but it's hard to find it at online casinos in 2017.
So, how does the house edge work? Well, let's say you're playing American Roulette and you bet $10 on 36 red. The true odds of your number coming up is 38/1. However, the casino will only pay you 35/1 on your money - in this example, $360 ($350 plus your $10 back). The percentage difference the casino holds onto is the house edge.
Final Roulette Tips
All you need for a happy online roulette life in 2017 is to find a reputable website with good software and a wide range of games. You'll need loonies, of course, so go in with a good bankroll management strategy, stick to your limits and get out when you're ahead; don't go chasing those losses.
Oh, and of course, choose a top gambling site on OnlineRoulette.ca to earn yourself a great deposit bonus for real cash. Find the best possible welcome bonus from one of our highlighted recommended Canadian casinos and make the biggest deposit possible to maximize your bonus amount.
Finally, make sure that the casino offers European Roulette and that the game counts towards unlocking your bonus. Some web casinos in 2017 expressly state that roulette wagers don't count towards bonuses!
The more you practice the strategies, the more confident you'll become about what works for you. These useful videos explain visually how the systems work and how to play them.
Whether you win or lose, choose a great website today and start playing roulette and having fun!