Our Top Tips to Win at Online Roulette
At a Glance:
Test out free tables first to learn the game.
Take time to figure out roulette before playing real money games.
American roulette is most popular, but many options exist.
Learn the differences between live and online roulette play.
Roulette online is simple, this is likely why it's so popular.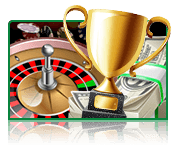 Roulette is so popular with players all over the world because it takes just a minute to learn. Sadly, we can't provide you with any proven strategies that will allow you to win every single time you play the game; that's because there aren't any.
What we can tell you about are some of the leading strategies used by roulette players, a few methods that might help you beat the house (but are extremely difficult to master) and how some of the most popular bets can make your bankroll go further and keep you playing for longer.
How to Win at Roulette
The casino is home to many games that require intricate planning, skill and hours of practice. Roulette is not one of them. With some extremely simple bets, roulette has a shallow learning curve and lots of entertainment value.
In order to win, players attempt to accurately predict where the ball will land after being spun around the roulette wheel. Bets than can be placed include the color of the slot the ball will land in, its number, whether it's even or odd and the section of the board it belongs to.
The lower the odds of getting it right, the higher the payout.
Popular Roulette Bets (And How to Win Using Them)
By far the most popular bets in roulette are red/black and odd/even. As even money bets with odds close to–but not quite­–50/50 they're favored by beginners as well as dedicated players who have never been swayed by the big wins promised by betting on individual numbers.
You'll also find that, after waiting for as long a dry spell as possible, many players place bets on the 0 and 00 in addition to red/black or odd/even. A small bet can result in a big payout and roulette fanatics take a certain pleasure from winning money from a number designed to give the house its advantage.
"Canadian Roulette can be learned in a sitting, it has many different betting variations and strategies and takes long-term dedication to truly master the art of the game."
Make Your Bankroll Go Further
There's very little benefit to turning up to the table with one hundred Canadian dollars and placing it all on red or black. Sure, it might result in a nice win but it's slightly more likely that your entire bankroll will be lost on a single spin of the roulette wheel.
Play the odds by making smaller bets; the total amount you're willing to gamble divided by twenty or more is a decent guide. You'll be able to play for longer and, if you're playing offline, might be able to get a few free drinks out of the casino before you take your leave.
Take a look at our roulette strategy guide for more in-depth information.
Save Your Profits!
Some betting systems recommend letting your winnings roll, rebetting them up to five times before you take them off the table. This might lead to impressive winnings sometimes, but more often than not it's a recipe to lose it all. We recommend stashing as much of your profits away as possible, only gambling with the amount that you originally set out to.
Whether you're winning or not, we always recommend setting a hard limit for how much you're going to play with. Trying to force your luck to turn around in order to win back losses can work sometimes, but it can also make things much worse.
There's no sure-fire recipe for winning at roulette but, if it's excitement and high real cash prizes you're looking for, think about giving single number, two number or three number bets a try. With payouts of 35:1, 17:1 and 11:1 respectively, these are where the money's at when you do get lucky.