Understanding Minimum & Maximum Bets
At a Glance:
Playing roulette online is very popular because it's easy and enjoyable.
Take time to learn all the rules before risking money.
Try free tables to learn the techniques first.
Learn how live games and online games are so different.
American roulette is everywhere because it is most popular, but other options are common too.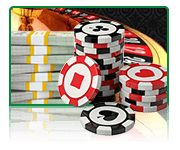 In both live casinos and when you're playing roulette online, you'll find minimum and maximum wagering requirements associated with playing at a table. Low stakes games allow players to get a taste of the action while spending just a few C$, and tables with higher stakes allow high rollers and experienced punters to risk larger sums on a single spin.
When you're playing at a land-based casino, you have to move between different tables and areas to switch between low and high stakes roulette. For example, high stakes games will usually have a more obvious security presence. This isn't necessary online, where you can often wager anywhere between a single Canadian Dollar and thousands of C$ in the same place.
How Bet Limits Work In Roulette
Bet limits are listed in different ways depending on where you're playing. Some casinos set distinct limits for inside and outside bets, which we'll explain below. Others set a minimum or maximum limit for each player at table, which is a little more straightforward for players.
While there's a chance you can put too much money down at a bricks and mortar casino and end up having your winnings capped if you get lucky, this won't happen at an online casino. When you're playing roulette online, sites won't allow you to exceed their maximum bets and will flash a pop-up window to let you know that you can't place any more chips.
Bet Limits For Inside And Outside Bets
Whether you're playing offline or on the web, you'll notice that inside and outside bets have different minimums and maximums at most casinos. Casinos will make this very clear to players, because they don't want to be accused of trying to deceive or cheat their players.
The inside maximum refers to how much you can wager on a single number–also known as a straight up bet–and the outside maximum tells you how much you can place when betting on whether the result will be black/red, even/odd or which column/group it will be in.
"Even though Roulette comes with many betting options it can be learned in an afternoon, though mastering this complicated game will take patience and dedication with plenty of practice."
Typical Minimum And Maximum Bet Limits
As we said above, these will vary significantly from table to table. For example, some offline casinos offer minimum bets as low as a Canadian quarter. When playing roulette online, a typical minimum bet might be a loonie. Maximum bet limits can go as high as hundreds or even thousands of Canadian Dollars.
At an online roulette casino, minimum and maximum bets might look something like this, with all of the below in C$:
$1 minimum straight up bet
$5 minimum outside bet
$1,000 maximum inside bet
$5,000 maximum outside bet
Please don't take the figures above as standard for all casinos; they're just an example to give you an idea of the sort of numbers you might be able to expect. You'll see that both the minimum and maximum bets for outside bets are higher than for inside bets.
Why Do Minimum and Maximum Betting Limits Exist?
Bet limits are in place, among other reasons, to stop people taking advantage of betting systems. The Martingale system involves doubling your bet every time you lose and, if there were no betting systems in place, a player with a very large bankroll could theoretically beat the casino by making sure that they never lose.
No matter how tempting a betting system may be, just be cautious of the fact that it might be undone by a maximum bet limit that prevents you from recouping your losses. You'll find a wide range of minimum and maximum bet limits at online roulette casinos, so you should have no problem finding a table to suit your bankroll.