Variations of Online Roulette Explained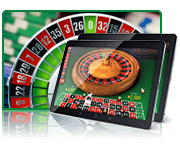 Roulette is a well-known and exciting casino game - the house has a small edge, the bets are simple and the payouts can be huge! Did you know there's more than one way to spin a wheel? There are many different variations of roulette available at Canadian online casinos - have a look at this overview and check out which one sounds suited to you.
European roulette
The standard roulette that you'll find at many online casinos, European roulette features the 1 - 36 numbers as well as a 0. Additionally, there are three columns plus red and black. Players can bet on odd/even, red/black, 1 - 18/19 - 36, first/second/third 12, and of course all the numbers including 0.
Odd/even and red/black and 1 - 18/19 - 36 pay out at even money, with columns and bets on sets of 12 paying out at 2/1. The most potentially profitable bets are on the individual numbers themselves, which pay out at 35/1. You can hedge your bets by betting multiple numbers with one bet, though this will decrease the odds and payout. The house edge in European roulette is just 2.7%, making it one of the more favorable table games at online casinos.
American roulette
The classic American roulette features the same bets as European roulette - the only difference is the extra double 0. This raises the house edge to more than 5%, but gives higher payouts on certain bets.
French roulette
This game is very similar to European roulette (1 - 36 and a single 0), but there are two additional rules that make it a little more fun and favorable for players. The La Partage rule insures your bet against a 0 - if the ball lands there you lose only half your bet. Additionally, the En Prison rule means that if you lose your bet on odd/even because of a 0, your bet is placed "in prison" and you have the chance to win it back on the next spin.
"From European and American roulette to creative and unique versions like Spingo, roulette options are wide-ranging for Canadian online gamblers."
Spingo
What do you get when you cross online bingo and online roulette? Spingo! Rather than betting on 1 - 36, the numbers run from 1 - 10 and there are three, not two, colors to be on. The wheel is spun and lottery-style balls are picked out into the colored trays. Like regular roulette, you can also bet on odd/even. View our list of casinos where you can play Springo.
Multi-ball/multi-wheel roulette
One wheel or chance to win not enough for you? Some online casinos in Canada will offer up multi-ball and multi-wheel roulette games. Just as they sound, multi-ball roulette plays like regular roulette but with more than one ball at a time; multi-wheel roulette is the same principle with various wheels on the go at once. Typically, multi-ball games split up your bets according to the number of balls in play, while multi-wheel roulette spreads single board bets across up to eight wheels.
Live dealer roulette
Any of the variants above (apart from multi-wheel) can be found with a live dealer variant - this is exactly the same as a regular online casino roulette game, but with a real life dealer operating the wheel and viewable via webcam. Many players prefer the added security of this variant.