Discover the Variations of Online Roulette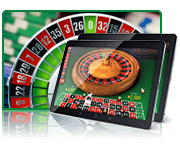 Roulette is a well-known and exciting casino game. The house has a small edge, the bets are simple and the payouts can be huge! Did you know there's more than one way to spin a wheel? There are many different variations of roulette available at Canadian online casinos. Have a look at this overview to help you decide which one suits you best.
Main Variations You'll Find
Online roulette tables often come in these main variations: American, European, and French. The main difference between the three is the house edge offered by each.
Main Variation
House Edge
American
5.26%
European
2.70%
French
1.35% (even-money bets)
2.70% (all other bets)
American Roulette
Classic American roulette most closely resembles the original versions of European roulette from the 18th and 19th centuries with its 38 pockets. It features mostly the same bets and payouts as modern single-zero wheels. However, it has a double-zero (00) and a single-zero (0) pocket on the wheel giving it a house edge of more than 5%.
This variation also allows players to make a 'basket bet' on the first five numbers: 0, 00, 1, 2, 3. This actually has a worse house edge of 7.89%.
At tables with higher minimum limits, sometimes a special rule that reduces the house edge on even-money bets is at play. Known as the 'surrender rule,' when the 0 is called, half of all even-money bets are immediately returned to players.
American Roulette Facts
Pockets: 36 black/red with 2 green zeros
House Edge: 5.26%
Special Features: 'basket bet' and 'surrender rule'
European Roulette
European roulette features the same amount of red and black numbers as American, only it has a single green '0' pocket. The house edge in European roulette is only 2.70% making it one of the more favorable table games at online casinos. With a total of 37 pockets and a lower house edge, this version of roulette gives players a slightly higher chance to win each spin.
Fortunately, Canadian players have access online to this type of roulette as many online casinos featuring European games are Canada friendly.
European Roulette Facts
Pockets: 36 black/red with 1 green zero
House Edge: 2.70%
Special Features: May allow French rules that reduce house edge.
French Roulette
This game uses a single-zero, European wheel, but allows two additional rules that make it a little more fun and favorable for players. The 'la partage' rule halves the house edge on even-money bets by returning half of your wager when a 0 pops up. The 'en prison' rule is similar. You have the option to either accept half of your wager back, or let it ride on the next spin. If you choose the latter option, you will have the chance to win it back on the next spin or lose it all depending on your luck.
French Roulette Facts
Pockets: 36 black/red with 1 green zero
House Edge: 2.70%; 1.35% (even-money bets)
Special Features: 'la partage' and 'en prison' rules
Live Dealer
A 'live dealer' version of any of the main variations can be easily found online. This is almost the same as being there in person, except the dealer operating the wheel is viewable via webcam, and you can't see the other players. Many online gamblers prefer this variant, as it uses a real wheel as opposed to an automated algorithm. That, combined with the convenience of playing from home, makes 'Live Dealer Roulette' extremely popular at online casinos.
Live Dealer Roulette Facts
Pockets: 37 or 38
House Edge: 5.26%, 2.70% or 1.35% (even-money bets)
Special Features: It uses a real dealer with a real wheel and combines the convenience of playing from home with a real casino experience.
Premier Roulette Diamond Edition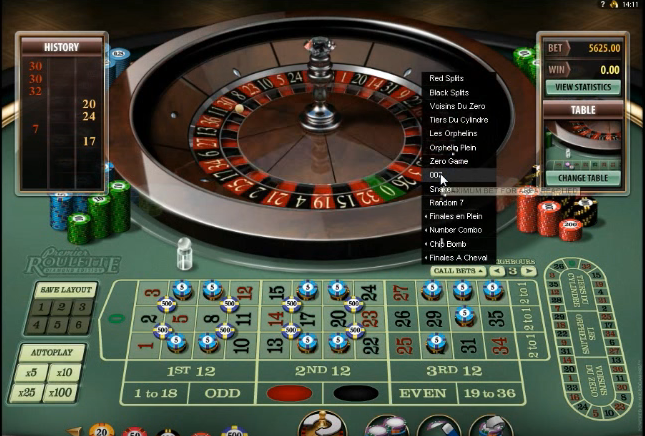 This version of online roulette uses a wheel with 36 majority numbers and a single 0. The rules, odds, house edge, and payout are standard European. What makes this variation special is that you can change the color of the table from green to blue or red. There are several shades of these main colors available. As with many Microgaming automated roulette games, players may view bet statistics for each session, speed up gameplay in Turbo mode, set auto play from 5 to 100 spins and place call bets in expert mode.
Premier Roulette Diamond Edition Facts
Pockets: 36 black/red with 1 green zero
House Edge: 2.70%
Special Features: Allows players to change the color of the table, and automatically places call bets with a click of a button.
Multi-wheel Roulette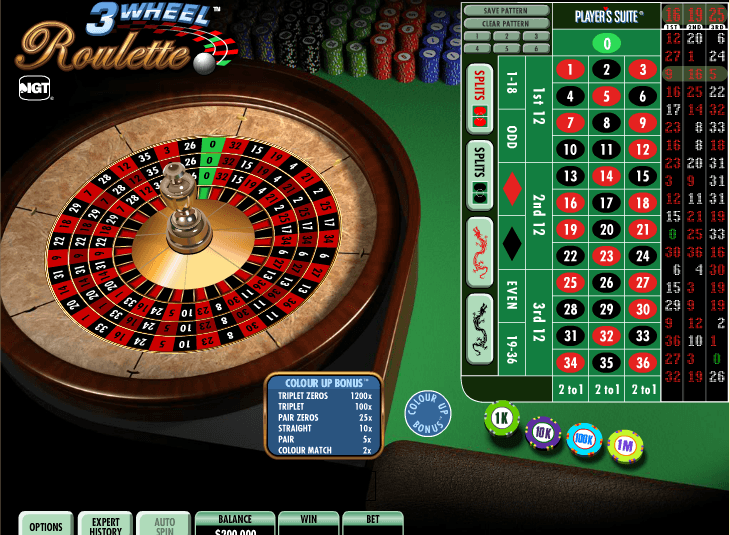 One wheel or not enough for you? Some online casinos in Canada will offer multi-wheel roulette games. This variation typically has several European wheels on the go at once, and spreads single board bets across up to eight wheels. For example, if you are playing 3 wheel roulette, each chip you place on the board would automatically triple - 1 bet unit for each wheel.
Potential payouts can be much higher than the ordinary version of roulette. Special bonuses are awarded for either matching colors or numbers.
Multi-wheel Roulette
Pockets: 37-296.
House Edge: 2.70%
Special Features: Can play with up to 8 wheels and increases potential payouts with bonuses for matching colors or numbers.
Spingo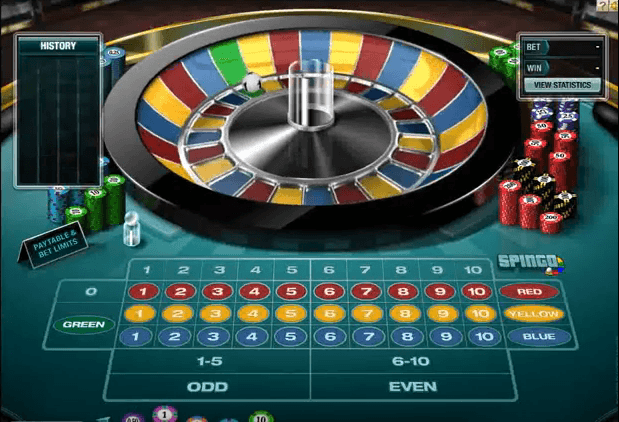 What do you get when you cross online bingo and roulette? Spingo! Rather than betting on 0 - 36, the numbers run from 0 - 10. Instead of two main colors (red or black), there are three main colors which include yellow, red and blue. Spingo also has a zero ball and a green pocket which act as a '0' and '00' of sorts. When the wheel spins, numbered bingo-style balls pop out into colored pockets.
This variation has a number of betting options that will seem familiar if you play roulette. Here are a few of the layout spaces to choose from: number/color, number, color, odd, even, 1-5 or 6-10. Potential payouts range from 1/1 to 31/1.
Spingo Facts
Pockets: red, yellow, blue and 1 green
RTP: 96.72%
Special Features: colored pockets with numbered balls provide a unique twist on bet options.
"From European and American roulette to creative and unique versions like Spingo, roulette options are wide-ranging for Canadian online gamblers."
European Gold Roulette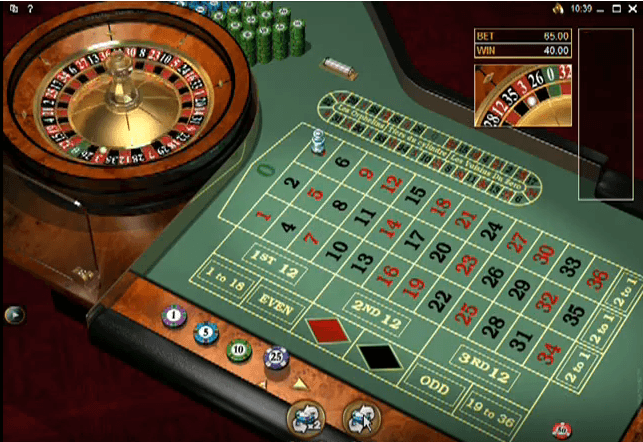 One of three casino games in Microgaming's 'Gold Series,' this automated roulette variation features 3D graphics, player statistics, call bets, the option to customize up to 8 of your favorite bet layouts, and auto play. It is played on a typical European wheel with a single-zero pocket.
European Gold Roulette
Pockets: 36 black and red with 1 green zero
House Edge: 2.70%
Special Features: Multiple bet layouts can be saved for reuse, and there is the option to place call bets
No Zero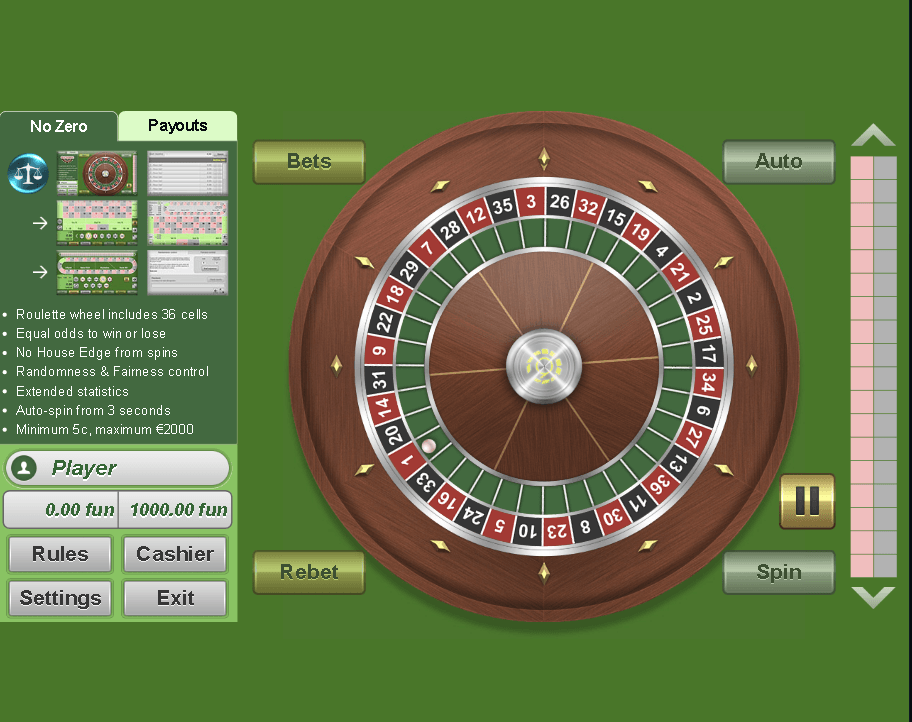 This type of roulette is quite rare, though it can be found online. The wheel has 1-36 majority numbers etched into alternating red and black pockets. There are no green '0' pockets which virtually eliminates the traditional house edge claimed by casinos at the table. This variation boasts 100% RTP (return to player).
Why would an online casino offer a roulette wheel with no edge? Well, some offset this by claiming a fee on your winnings. For example, an online casino might claim 10% of all your net winnings when you're cashing out. If you begin a session with the bankroll of $200, and you win $50, then you would be credited $245 at the end of the session. The casino would keep $5 as a fee.
No-Zero Roulette Facts
Pockets: 36 black and red
House Edge: 0%
Special Features: Winnings are subject to fees.
How Does Each Compare?
Each variation offers something unique. When deciding which suits you best, consider these factors.
House Edge: Choosing tables with the lowest house edge will give you slightly better odds to win. European tables, particularly French roulette, offer a lower edge than American. No-zero tables claim no house edge, however, you must pay a percentage of your total net winnings to the house.
Bet Options: Tables which allow innovative bet features elevate the game to the next level of entertainment. In particular, Spingo stands out with its unique color and number bet combos. Multi-wheel roulette, with its color and number match bonus payouts, also offers a nice twist on the standard roulette rules.
Payouts: Some variations offer higher payouts than others. As already mentioned, multi-wheel roulette gives special bonus payouts for matching colors or numbers. Traditional variations of roulette offer a higher potential payout on straight-up bets than Spingo.
Odds: Spingo offers a higher chance to win each spin on number bets, but less of a chance with color bets. Multi-wheel may have more wheels, but the odds to win are no different from ordinary roulette as the house edge remains constant. This is due to each wheel having its own 0 pocket. Not to mention, even though there's only one ball, each wheel stops independently of the others making the selection of numbers completely random.
Deciding Which to Play
If you are after a high-quality, traditional roulette experience, then Microgaming's Premier Diamond Edition or Gold Series Roulette would suit nicely. Both use European wheels with a low house edge of 2.70%, offer high quality graphics and allow you to save your favorite bet layouts for convenience.
Spingo and multi-wheel roulette are perfect for players looking for a unique gaming experience. Nothing changes things up better than adding special bonuses, colors and bet combos to the game. Then, there is the rare, no-zero roulette variation which certainly offers something unique in the way of win/loss probability despite the fact that fees are attached to winnings.
Of course, if automated roulette is something that doesn't appeal to you, then you can always rely on the live dealer options of this classic casino game. With a real dealer and a real wheel, this variation gives an authentic casino experience in a way no automated game could.
Still can't decide which to play? Fortunately, demo versions of the automated variations are often available at online casinos allowing you to try before you buy. We recommend taking each for a spin before playing with real money!