Our Guide To Real Money Spingo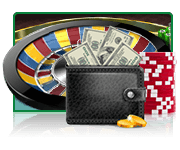 If you haven't heard of Spingo before, you are missing out on one of the most entertaining real money casino games being played online today. The game combines Roulette and bingo together into a game that has become one of the most popular Roulette variations of all time.
You will learn what Spingo is along with the rules of the game, discover the odds the game offers, be briefed on the advantages and disadvantages of the game, and be informed about how real money Spingo differs from regular Roulette.
The Rules of Spingo
A Spingo board is laid out similar to a Roulette table. There is a large spinning wheel, but instead of numbers there are only colours on it. In the middle of the wheel is a tube where one of ten numbered balls will pop out, which will land on one of the four (red, yellow, blue, or green) colours.
The betting board has ten columns and underneath it, rows for red, yellow, and blue. There are also betting areas for just a particular colour, or for some "50-50" bets such as 1-5/6-10 or odd/even.
Players make their bets similar to regular Roulette and when ready, the wheel spins and one of ten numbered bingo balls comes out and lands on a colour. For example, if the 9 popped out and landed on a blue, a player would win if they had placed money on 9-blue, or the nine column, or the blue row, or the 6-10, or the odd wager. As you can see, with so many different ways to win, Spingo gets very fun and very addictive fast.
At a Glance:
Spingo, played exclusively at online casinos, is a blend of bingo and Roulette.
The main advantage is that it's incredibly fun and addicting to play.
Spingo does not offer the best odds and has a learning curve.
Try the free play version of Spingo first before jumping in for real.
You can win big at Spingo if you hit a hot streak.
Discover the differences between Spingo and standard Roulette.
Advantages of Online Spingo
Spingo has to be the most hilarious and insane of all Roulette varieties. For whatever reason, the game is massively entertaining and highly addictive. Like regular Roulette it offers near "50-50" bets that are popular, but it also has plenty of near "one-third" bets. Also, there's a huge rush to be had when your number-colour combination hits. Overall, Spingo is an awesome game because it's a tremendous amount of fun to play.
"Spingo takes the fun of bingo and increases your odds of winning by combining it with online roulette. Fun and addicting, you won't find spingo at a land casino, but you'll find it at nearly every online gambling site we recommend."
Disadvantages of Spingo
Unfortunately, you won't find Spingo at any land-based casinos, but you will find it at most (but not all) online casinos. This represents the game's biggest disadvantage - because it isn't common to all casinos, players simply do not know about it and are potentially turned off by gambling with something so radically different from "normal" Roulette.
Spingo Odds And Betting
The normal Spingo wheel has only one green entry, representing what would be a "zero" in a normal Roulette game. This gives the house their edge on all bets, although it is probably somewhere between 2-4% overall. Since Spingo only has one "zero" value, the odds of this game will be better than playing American Roulette.
Differences Between Spingo and Regular Roulette
The differences between the two games is humongous. Real money Spingo does not have numbers on its wheel and uses a combination of the wheel and bingo balls to determine if bets win or lose. Spingo looks, feels and plays like a hybrid game, while regular Roulette is a much more traditional game.
There are similarities as the betting is conducted in the same manner and some of the odds, like betting on odd/even or 1-5/6-10 offer the same odds (2.7% house edge) as European Roulette.
Spingo FAQ




How does Spingo work?

Spingo combines roulette and bingo into one exciting game that is built for Canadian online casinos. Perfect for those who enjoy bingo but want a little more thrill, Spingo is a revolutionary online format that has quickly gained a loyal following.

Is it popular?

Yes, very much so. Since its debut, the game of Spingo appealed to both seasoned gamblers and newcomers alike. The game also is popular with the more traditional bingo crowd, a group of players not typically active in games outside of bingo.

Where can I find it?

Spingo can be found at many of the leading roulette online casinos in Canada. We always look for it as an added bonus when rating Internet gambling venues and deciding whether to feature the site in our recommended directory.

How is it different from other variations?

Spingo differs from traditional roulette in that instead of numbers on the wheel there are only colors. In the middle of the wheel, a tube is featured that will draw a number between one and 10. The table, or betting board, allows players to place wagers on a series of bets including rows for red, yellow and blue, as well as 50-50 bets like 1-5/6-10, and odd or even.

Are the odds more favourable?

No, just the opposite is true. Spingo is more of a game of chance and with its incorporation of bingo, the house edge increases to about four percent for most Spingo wheels. That is higher than the European and French versions of roulette that come with a 2.7 percent edge, though slightly lower than the American version which features a 5.26 percent edge.

Should I use a different betting strategy?

Spingo is a game of luck and chance, meaning there really isn't a bad bet, nor is there a good one. Spingo's goal is to entertain, and that it surely does.

Can I use a roulette system?

You can use a roulette system, but it won't work over time. Take a look at our roulette system reviews for a complete understanding of why systems in general are overhyped and underperformed.