Enjoying Online Roulette Tournaments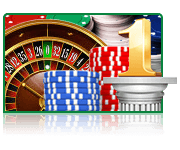 Tournament play is something you probably associate with player vs player games like poker rather than roulette, which is played against the house. However, roulette tournaments offer a fun and exciting take on what can be quite a solitary activity if you usually play online. Adding competition into the mix takes roulette to a heightened level of entertainment. To learn more about the different types of tournaments and real cash prizes, keep reading.
What Are Roulette Tournaments?
Players compete against each other for a prize pool of cash. The casino sets the ground rules usually dividing the tournament into a set number of rounds. Ultimately, the goal is to win the most chips or points to come out on top.
The number of potential place winners is entirely at the casino's discretion. Sometimes, only the top winner is awarded a prize, however, it's also possible that multiple top players will be awarded a percentage of the prize pool. Depending on the number of rounds, tournaments can last from hours to days to weeks building up to that final round which determines the ultimate winners.
While many tournaments require you to win the most chips for the prize, some award points for spending the most. In other words, the players that wager more can earn higher prizes. For example, a casino may award a point for each dollar you spend. Typically, real cash prizes are the carrot dangling for this type of tournament setup.
Types of Tournaments
There are a few different types of roulette tournaments, which we'll talk about below, with their own respective advantages and disadvantages. 'Free to play' and 'pay to play' are commonly offered. The main difference comes down to money in the form of either entry fees or prizes.
Free To Play Roulette Tournaments
Rather than charging an entry fee, some online casinos allow you to compete for bonus cash on either automated or live roulette games. In free to play roulette tournaments, you get points for every Canadian dollar you bet multiplied by a figure that varies depending on your bet and how much you win. Usually, the ground rules will include either a spin or time limit.
You can keep track of your progress by checking the leaderboard. The names of each player participating in the tournament will be listed there along with the amount of chips or points won by each person.
Be aware that there may be fees to extend either the time limit or spin limit to compensate for the lack of entry fees. Not to mention, the prizes may consist of bonus cash with a wagering requirement attached instead of real cash. Make sure to read the terms and conditions before opting in.
Pay to Play Roulette Tournaments
Some online casinos offer roulette tournaments that have an entry fee associated with them. As a result, these play a little differently and more closely resemble a poker tournament. Once players have paid the entry fee, everyone is allocated a certain number of chips. As in standard roulette, there are maximum and minimum betting limits that players must abide by.
Roulette tournament strategy varies from standard play in that some players are more likely to bet heavily on numbers in the hope that they will take an early lead. Others will stick to even money bets and/or use a roulette system to slowly work their way up the board. The route people take will largely depend on whether the tournament has a time limit or a spin limit.
"Canadian roulette is good for new players despite having many bet options, because it's easily learned. It isn't simple to master though and takes plenty of practice."
The prizes usually consist of real cash money that can be withdrawn after winning. Like free to play tournaments, you can check your progress via a leaderboard showing everyone's progress.
Live Tournaments
Though not as often, online casinos do offer live roulette tournaments which more closely resemble participating in a tournament at a physical casino. Similar to automated tournaments, ground rules may apply such as the requirement of an entry fee, time limit, spin limit and basic game rules. A leaderboard should still be accessible for players to easily keep track of their progress.
Time Limit vs Spin Limit Roulette Tournaments
Many tournaments stipulate a time or spin limit as part of the ground rules. This adds a bit of urgency to the game upping the excitement level. Each type of limit comes with its own advantages and disadvantages. Have a look to see how they compare.
Time Limit Tournaments
In cases where there is a time limit, players can choose the number of spins necessary to get ahead. This allows for flexible bet options and the opportunity to use even-money bets to win.
| Pros | Cons |
| --- | --- |
| Players can choose the number of spins they bet on and stop betting once they get ahead of the pack. | Shorter time limits create a high-pressure environment which can push players into making risky bets. |
| Greater flexibility in budgeting and bet options makes this ideal for players that prefer outside bets. | Long time limits can frustrate players that favor high-risk, high reward bets as their bankroll may not survive extended sessions. |
Spin Limit Tournaments
Spin limits are often placed on each round. This tends to promote an 'all or nothing' mentality amongst players as each hopes to soar ahead of the pack.
| Pros | Cons |
| --- | --- |
| High-risk, high reward betting strategists are well-suited to this fast-paced tournament style. | Unlike time limits, spin limits offer a greater challenge really stretching each player's ability to adapt betting strategies as the situation changes |
| Experience can give a distinct advantage here when combined with luck. | Tends to pressure players into making high-risk bets to gain the lead quickly. |
Roulette Tournament Prizes
As previously noted, both automated and live dealer versions of roulette offer either bonus cash prizes or real cash that may or may not be split amongst multiple players. Have a look at the types of prizes you can expect to find online.
| | |
| --- | --- |
| 'Bonus Cash' or 'Bonus Chips' | This type of prize is usually offered by 'free to play' tournaments. It cannot be withdrawn until it meets a wagering requirement. For example, if your bonus cash has a wagering requirement of 20x, then each unit of bonus cash must be wagered 20x before it can be withdrawn. |
| 'Real Cash' | Usually offered by 'pay to play' tournaments, this type of prize can be withdrawn hours or days after winning. No wagering requirement is attached to real money prizes. |
Tournaments played at physical casinos are usually pay to play, and the deciding factor of the competition is all about who has the most chips at the end of the event. Cash prizes are the typical reward doled out after each round with a final large prize at the end for the top winner(s).
Tournament Tips
New to tournaments? Here are a few tips to help you get the most out of your tournament experience.
Luck combined with strategy is key. Go in with a plan before you begin.
When playing online, read the terms and conditions before opting in. That way, you can avoid unexpected surprises such as fees, wagering requirements and low rewards
Look for tournaments that offer prizes to multiple top players. This will give you more opportunities to win extra cash.
If you prefer low risk bets, choose a tournament with longer time/spin limits each round. That way, you can work your way up the leaderboard at your own pace.
Go into each tournament with entertainment as your main goal. With a bit of luck, a cash prize can be the cherry on top!
One final tip for you-choose a tournament that suits your bet style and preferred environment of gameplay. Online tournaments can be personal or impersonal depending on whether they are live or automated. These come with the benefit of being able to track gameplay with a leaderboard. Going in person gives you the most sensory experience, and awards real cash prizes. Choose a casino option that will give you the most enjoyment!
Our Suggestions
Part of the fun of competing in roulette tournaments at Canadian casinos is learning to vary the size of your bets and the rate at which you place them in an attempt to match your competitors' performance. This provides a new level of entertainment over standard roulette, and it's certainly one we think you'll enjoy.
That said, some tournaments have more to offer than others. We recommend choosing tournaments that offer real cash prizes. While you may be reluctant to pay an entry fee, consider this. Entry fees tend to cost much less than wagering requirements attached to bonus cash prizes. In addition, we recommend choosing tournaments that offer longer rounds, so that you have time to strategize in the moment as the game shifts.