Guide To Playing Online Roulette Tournaments
At a Glance:
Playing roulette over the Internet is easy and fun and popular.
The American variation is offered at the most locations.
Learning the rules is important before trying real money tables.
Free tables are good for learning at.
Live roulette is quite different than online so learn what you are doing first.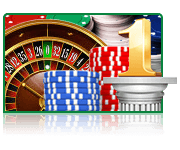 Tournament play is something you probably associate with games like poker (which is played against other players) rather than roulette, which is played against the house. However, roulette tournaments do exist and they offer a fun and exciting take on what can be quite a solitary activity if you only play roulette online.
There are actually a couple of different types of roulette tournaments, both of which we'll talk about below, with their own respective advantages and disadvantages:
Free To Play Roulette Tournaments
Rather than charging an entry fee, some online casinos allow you to compete for bonus cash on their live roulette games. Live games are used so all players are able to bet on, more or less, the same number of spins. In free to play roulette tournaments, you get points for every Canadian Dollar you bet multiplied by a figure that varies depending on your bet and how much you win.
Because there is no entry fee for these competitions, the real cash prize on offer is generally quite modest. If you're looking for bigger prizes, you may want to consider roulette tournaments with an entry fee.
Pay To Play Roulette Tournaments
Other online casinos offer roulette tournaments that have an entry fee associated with them that, as a result, play a little differently and more closely resemble a poker tournament. Once players have paid the entry fee, everyone is allocated a certain number of chips. As in standard roulette, there are maximum and minimum betting limits that players must abide by.
Roulette tournament strategy varies from standard play in that some players are more likely to bet heavily on numbers in the hope that they will take an early lead. Others will stick to even money bets and/or use a roulette system to slowly work their way up the board. The route people take will largely depend on whether the tournament has a time limit or a spin limit.
"Canadian roulette is good for new players though it has many betting options because it's easily learned, it isn't simple to master though and takes plenty of practice."
Time Limit Vs Spin Limit Roulette Tournaments
In cases where there is a time limit, players have the option of racing through as many bets as possible. This means that it's possible to place a large number of even money bets and, with a bit of luck, win big.
However, if there is a limit to the number of spins players can make, you'll see more players making 'all or nothing' bets in the hope of soaring ahead of the pack.
Roulette Tournament Prizes
In some tournaments, only the player at the top of the leaderboard takes home a prize. When this is the case, you'll often see a mad rush of bets in the closing rounds as players try to put themselves at the top of the board.
Others award prizes to a number of players, such as the top three or the top five. In these cases, players at the top will be more hesitant to make any wild bets in case they knock themselves out of the running for a prize.
The approach you take is down to you but, if you're nowhere near the top of the board and the end of the tournament is fast approaching, you may want to place some crazy bets that you'd never place in a standard game of roulette. Got any lucky numbers...?
Part of the fun of competing in roulette tournaments is learning to vary the size of your bets and the rate at which you place them in an attempt to match your competitors' performance. This is a completely different experience from playing standard online roulette or roulette in a land-based Canadian casino, and it's certainly one we think you'll enjoy.